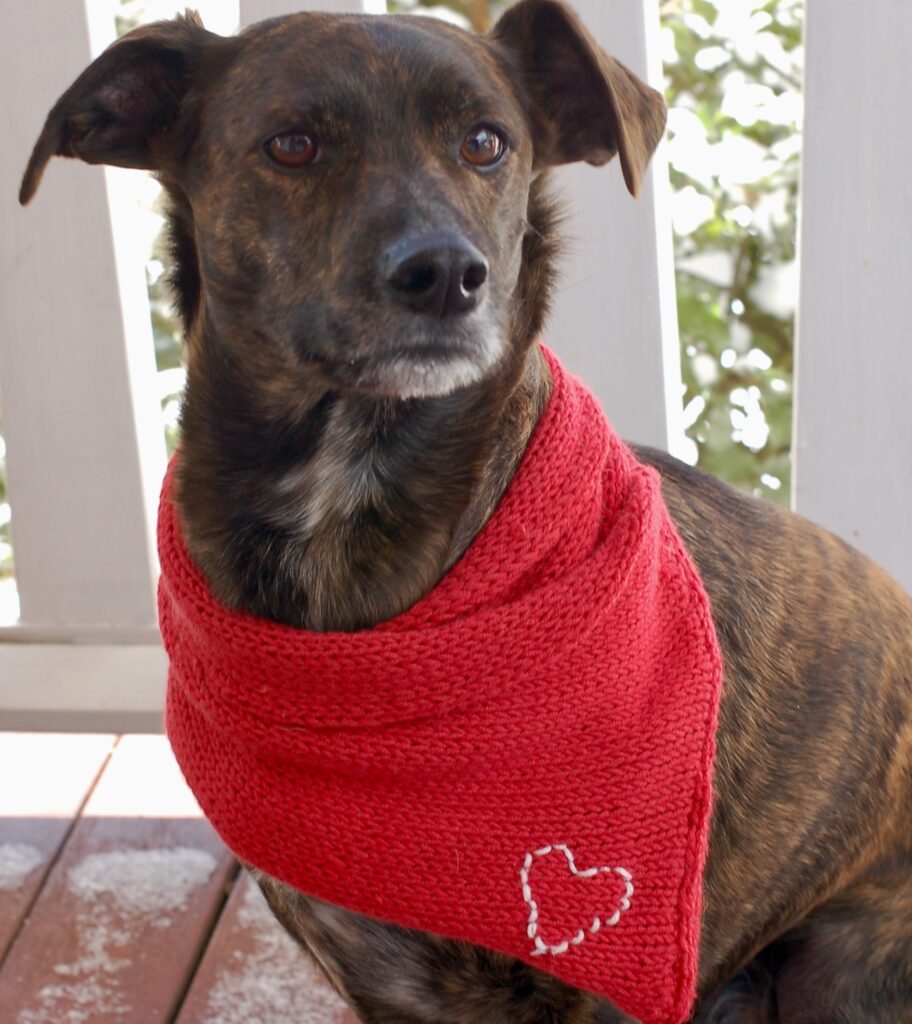 Just a little something from me and my buddy Otto to you, a simple rectangular cowl which you can modify to fit that special someone.
When you want to reach out and hug someone it can be tough when they are thousands of miles away. So, here's my solution, a quick to knit cowl made from a single skein of yarn with an options little embellishment in a second. No stash yarn available? Add a button instead, I keep one of these on the circulars in my tote bag so I have it when ever I am on the road. A few stitches here and there adds up quickly into a giftable little treat. Here's a pattern to make one for your power walking buddy, whom ever it may be. For me, it's my dog, he's conveniently a kid's size small so here it is in two sizes one for your little buddy and one for you. For sizes in between, the math is really easy, check out the pattern notes.
Yarn: Universal Yarn Wool Pop one skein, True Red color 612
Needle: US Size 6
Notions: Tapestry needle, optional – 2 stitch markers to denote last/first st each row
Gauge: 18 sts x 24 rows = 4" square in pattern stitch on one side of the double fabric
Dimensions: 28" x 8" rectangle folded and seamed (human), 22" x 8" (medium size dog)
Pattern Notes:
Piece is worked side to side.
To scale this piece up or down, add 6" to the size of the widest point of the head of the special someone for whom you are making this cowl and knit to that length rather than the 22" or 28" as stated below. To provide a tidy point and to lay flat against the chest, as written, the width of the finished cowl will be the same regardless of the size chosen.
Piece is worked flat and joined to form finished shape.
Make a double knit swatch before starting, gauge might be slightly different than gauge of stockinette.
Pattern:
Cast on 72 sts using a long tailed cast on.
Row 1: *Knit 1, pass yarn to the front of the work, slip 1 stitch as if to purl, pass yarn to back of work, repeat from * to end of row.
Repeat Row 1 until piece measure 22" for the dog size shown, or 28" for an adult human size.
Do not break yarn
Using an Italian Cast Off, bind off the edge.
With WS facing, really it can be RS, it's reversible, and the rectangle in front of you with the two longest sides parallel to your body, bring the top right corner down and the top left corner down atop it so the two corners are aligned. Adjust the sides so they too are aligned atop each other like this: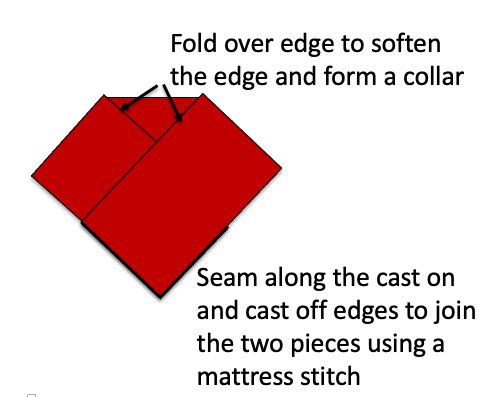 Sew along the edges of the resulting V, one seam along each side.
Fold down the top edge to form a collar and add your preferred embellishment using the contrasting color..
Finishing:
Weave in loose ends.
Steam block for professional touch.
Wrap it up and send it on its way!